InnoScale Cloud Clusters provide high-performance, scalable groupings of load-balanced cloud servers, designed for high-traffic websites and clients needing a higher level of performance than can be obtained from a single server.
Designed from the ground up with high-traffic websites in mind.
A fully integrated, customized architecture for your application or website.
Pro-Active Management built right in, even after your Cluster is up and running. Need changes, need to expand your Cluster? Let us work on it for you. We focus on the infrastructure so you can focus on your business.
Premium Content Delivery Network with points-of-presence all over the United States and Europe included with no minimum commitment and low monthly bandwidth rates.
Free private network bandwidth. Your clustered components talk to each other at up to 40 Gbps at no additional charge.
---
Deploy
A true White Glove experience. We work with you and your developers, hand in hand, to design and build your Cloud Cluster so that you get the best possible performance for your business needs.
Optimize
Load and security testing cycles ensure that your Cloud Cluster can measure up to the demands of your clients. And because your Cluster is based upon TRUE Cloud technology, if those demands change, your Cluster can quickly be scaled to meet those demands.
Support
Your success is our success. That is why we are here to support your Cloud Cluster no matter how your needs may change.
---
Built-In Management Features
Server Alerts
Our networks and your Cloud Cluster are monitored 24/7/365 from multiple monitoring stations strategically located throughout the globe. Our staff immediately begins working toward a solution at the first sign of a problem. Enjoy the peace of mind that in the event of a problem with your Cloud Cluster, you'll know immediately.
Security Audits
Our World-Class Engineering Team coordinates with you to install critical security fixes, software upgrades, and even assists you to move to the latest server OS releases.
Daily Backups
We perform daily backups of the components of your Cloud Cluster through the Idera Continuous Data Protection backup system. These backups can be used from everything from simple file restores, all that way to a full Bare Metal Recovery.
Optimization and Lockdown
Every new Cloud Cluster undergoes a thorough evaluation with our staff working to ensure you have the best possible performance and are protected from known security vulnerabilities.
---
Our Cloud Clusters are revolutionary. We deliver a collection of integrated cloud servers to accomplish server needs far beyond the capability of one machine.
When you need a high available, load balanced server cluster this is what we do best. Our Cloud Clusters are not just a bunch of cloud servers thrown together, but instead these are fully integrated systems designed and tuned for the best possible performance for your application. By using our award-wining infrastructure, you can take advantage of economical entry level pricing, greater redundancy, easier scalability, and built-in management. Here is an example of a combination Windows and Linux Cluster: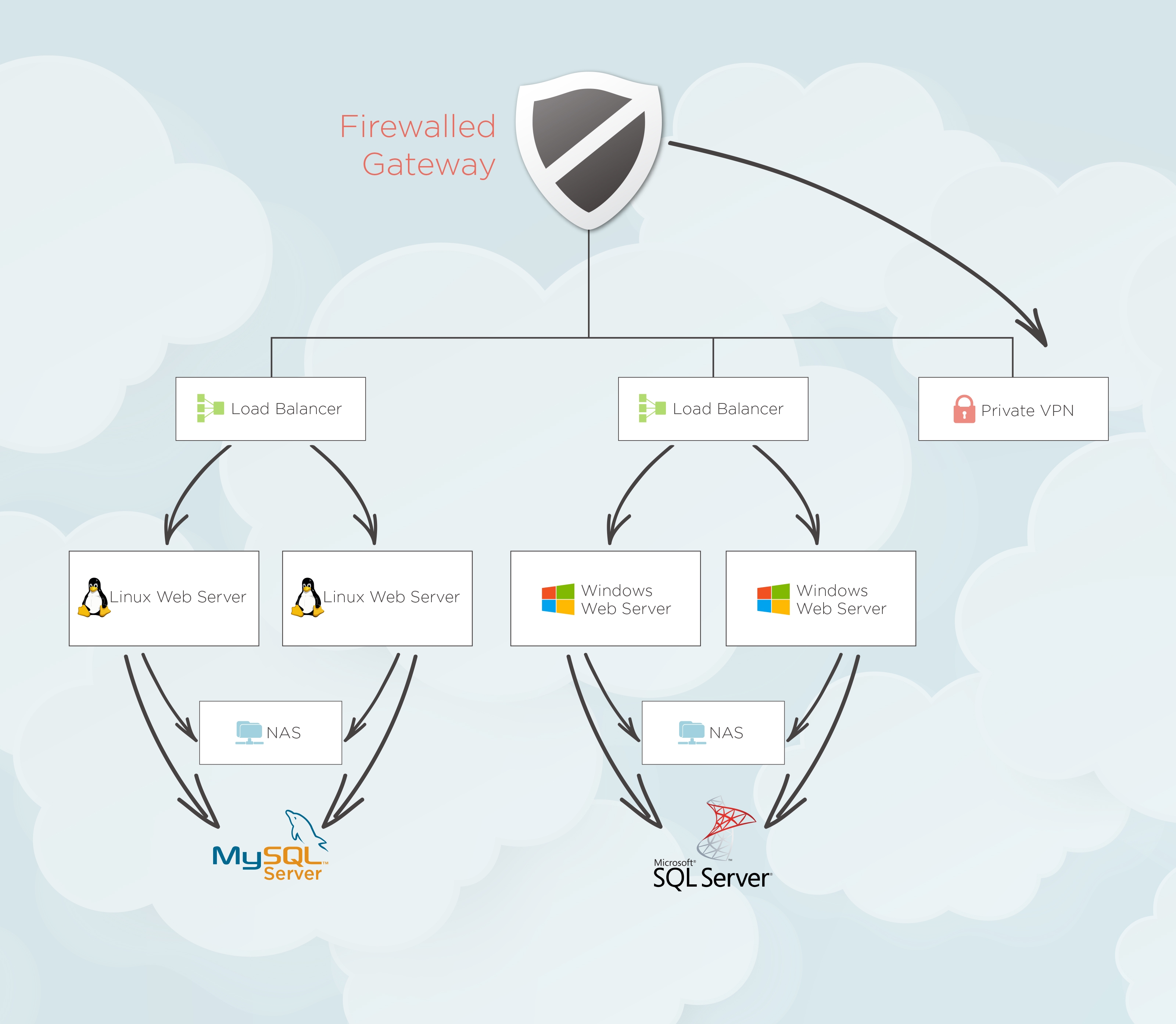 All of our Cloud Clusters are built to order, based on your exact needs. Whether you're upgrading your current hosting environment or wanting to do away with your traditional server cluster we'll be happy to talk to you about your project.
People choose our Cloud Clusters because:
TRUE Cloud Platform
Platform Level High Availability
Full Root Access
NO Oversubscription
Built-in Pro-Active Management
Proven Cloud Leader
Virtually Limitless Options
Custom Appliances
Performance Tuning