When searching for Cloud services a natural question to ask is what makes one Cloud company better than another? With so many providers on the market, and new ones emerging daily, it is increasingly difficult to choose a reliable provider that fits within your budget.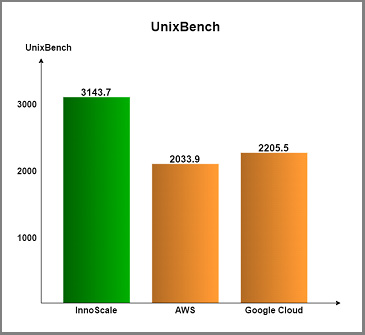 In talking with customers across the globe, one of the questions we always answer is "Why should I choose InnoScale over Amazon or Google Cloud?" The answer is surprisingly simple: VALUE. InnoScale simply provides more bang for the customer buck than Amazon Web Service (AWS) and Google Cloud. Furthermore, we back that up with a Service Level Agreement (SLA) that requires us to provide higher uptime than either of these large providers guarantee.
To demonstrate the performance of InnoScale's services compared to some of the most popular Cloud providers on the market today, we performed rigorous testing on comparable servers from AWS and Google Cloud against one of our most popular Cloud Server packages.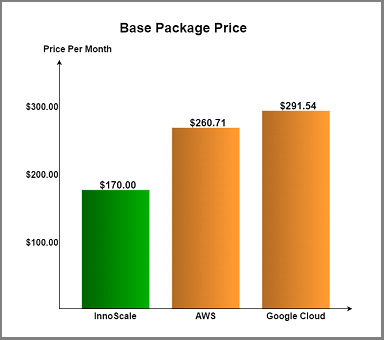 Finally, looking at the price points for these services, InnoScale is by far the least expensive option, at almost $100/month cheaper than AWS when comparing identical services, including bundled bandwidth, SSD storage, and disk IOPs.  Monthly pricing for AWS and Google Cloud are often difficult to estimate, because of the additional charges that both of these providers tack on for Bandwidth and Disk IOPs.  With InnoScale these are bundled in, so pricing up-front is clear.
In addition to being faster and less expensive by a good margin, InnoScale also offers the best SLA out of all 3 of these companies, demonstrating a commitment to quality that is second to none.
Interested in moving one or more of your projects to InnoScale?  Give us a call at 888-722-8515, or write us at sales@innoscale.net!
*Comparison of the following comparable Cloud offerings: